I am a soup and sandwich type of gal, but unfortunately my hubby isn't. But as we're getting in to colder weather I am craving soups. I think I'm going to have to put this on the menu for this week, sorry Josh! :)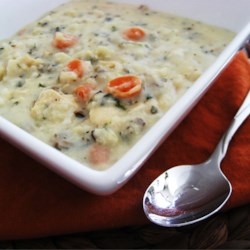 A few weeks ago we had a baby shower for my sister, Shawnna. We decided on having a few people bring soups for everyone. I asked a friend of mine if she could make a soup, which she said 'Yes'. But then she asked if I had any good soup recipes that she could use.
I decided to give her this recipe. Since the baby shower I have had several people ask me for the recipe, so I thought I'd better post it on here.
I promise you this is a delicious and easy soup, so give it a try.
Creamy Chicken & Wild Rice Soup
2 cooked chicken breasts, shredded or cubed
1 (4.5 oz.) Quick cooking long grain & wild rice with seasoning packet
2 C. Heavy Cream (I have used milk and it turns out great; Whole, 1% or 2%, but not Skim)
1/2 C. Chopped/sliced Carrot
In a large pot sauté the Celery, Onion, and carrot with a little bit of butter or olive oil (about 5 minutes or until soft). Then add the broth, water, and chicken to the vegetables, and bring just to boiling. Then stir in the rice, reserving seasoning packet. Cover & remove from heat.
In a small bowl, combine salt, pepper, and flour. In a medium saucepan over medium heat melt the butter. Stir in contents of seasoning packet until mixture is bubbly. Reduce heat to low, then stir in the flour mixture by Tbsp. to form a roux. Whisk in the cream, a little at a time, until fully incorporated and smooth. Cook until thickened (about 5 minutes).
Stir cream mixture into the broth & rice. Cook over medium heat until heated through. 10-15 minutes.
Enjoy!!